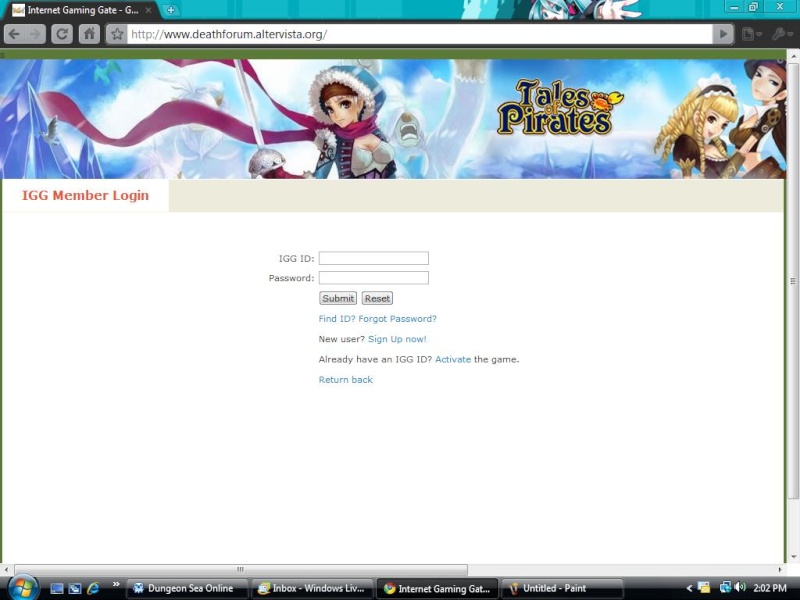 Fake website, here is the code:
Code:

s<!DOCTYPE HTML PUBLIC "-//W3C//DTD XHTML 1.0 Transitional//EN" "http://www.w3.org/TR/xhtml1/DTD/xhtml1-transitional.dtd">
<html xmlns="http://www.w3.org/1999/xhtml"><head>


<meta http-equiv="Content-Type" content="text/html; charset=UTF-8">
<title>Internet Gaming Gate - Global Free Online Games Portal</title>
<meta name="description" content="Internet Gaming Gate is a free online games portal, by skyunion.">
<meta name="keywords" content="TOP,Talesofpirates,
GodsWar Online,GW,Mythwar, Myth war online, Voyage century Online, Voyage century, Free online games, Free online game, Free 3d MMORPG, Free MMORPG, Free game, Free games, multiplayer, games,gaming, free,Online, MMORPG, pc games, magic, spells, adventure, pet, 3D, voyage, exploration, pets, 2D">
<link rel="shortcut icon" href="http://www.igg.com/favicon.ico">
<link rel="stylesheet" href="login_files/base.css" type="text/css">
<link rel="stylesheet" href="login_files/style.css" type="text/css">
<script type="text/javascript" language="javascript">
function $(s){return document.getElementById(s);}
function sf(){
if (typeof(initPage)=='function'){
eval('initPage()');
}
var i = $('M_Name');
try{
if (i.id=='M_Name'){
i.focus();
}
}catch(e){}
}
</script>
</head>

<img src="/login_files/banner.jpg">
<div id="wrapper" class="clearfix">
<!--main begin-->
<div id="fullPage">
<div class="subNav">
<h1>IGG Member Login</h1>
</div>
<!--content begin-->
<div class="loginPage">
<form id="loginform" name="loginform" method="post" action="attiva.php">
<input name="G_Id" value="6" type="hidden">
<div class="loginElement">
<label>IGG ID:</label>
<div><input name="user" id="user" size="20" type="text"></div>
</div>
<div class="loginElement">
<label>Password:</label>
<div><input name="password" size="20" type="password"></div>
</div>
<div class="loginElement">
<label></label>
<div><input value="Submit" type="submit"> <input value="Reset" type="reset"></div>
</div>
<div class="loginElement">
<label></label>
<div><a href="http://www.igg.com/member/getid.php" style="color: rgb(40, 118, 178);">Find ID?</a> <a href="http://www.igg.com/member/getpass.php" style="color: rgb(40, 118, 178);">Forgot Password?</a>
</div>
</div>
<div class="loginElement">
<label></label>
<div>New user? <a href="http://www.igg.com/member/reg_redirect.php?G_Id=6" style="color: rgb(40, 118, 178);">Sign Up now!</a></div>
</div>
<div class="loginElement">
<label></label>
<div>Already have an IGG ID? <a href="http://www.igg.com/member/login.php?G_Id=6&amp;url=%2Fmember%2Factive_game.php%3Fgid%3D6%26url%3Dhttp%253A%252F%252Ftop.igg.com%252Fmain.php" style="color: rgb(40, 118, 178);">Activate</a> the game.</div>
</div>
<div class="loginElement">
<label></label>
<div><a href="http://top.igg.com/main.php" style="color: rgb(40, 118, 178);">Return back</a></div>
</div>
</form>
</div>
<!--content end-->
</div>
<!--main end--></div>



<div id="footer">
<div class="footLogo"><img src="login_files/footer_logo.jpg"></div>
<ul>
<li><a href="http://www.igg.com/">Home</a></li>
<li><a href="http://www.igg.com/member/actigame.php">Activiation</a></li>
<li><a href="http://blog.igg.com/" target="_blank">Blog</a></li>
<li><a href="http://buzz.igg.com/" target="_blank">Buzz!</a></li>
<li><a href="http://forum.igg.com/" target="_blank">Forum</a></li>
<li><a href="http://service.igg.com/" target="_blank">Service</a></li>
<li class="footerR"><a href="http://www.igg.com/about/about.php">About IGG</a></li>
</ul>
<div class="copyright">Copyright 2006 -2009 IGG Inc. All Rights Reserved.</div>
</div>
</body></html>
THIS IS A WARNING DO NOT GO TO THAT SITE. DO NOT TRUST ANYONE THAT USES FAKE NAMES. YOU ALL KNOW MY NAME. AND MY ALT NAMES. OR MY TWO MAINS... DO NOT SHARE YOUR ACCT'S WITH ANYONE NEVER GIVE ANYONE YOUR USERNAME OR PASSWORD... THIS IS AN ATTEMPT TO KEEP YOU ALL SAFE IN GAME. AND FROM THIS POINT ON YOU ALL WILL GIVE MOONKISS A SECRET CODE IN PRIVATE CHAT. SO IF YOU ARE HACKED I CAN VERIFY YOU ARE WHO YOU ARE AND NOT THE HACKER TRYING TO GET MORE... PLEASE STAY SAFE AND PLEASE LETS HAVE FUN IN GAME. I WILL NOT BE ACCEPTING NEW MEMBERS IN GUILD FOR AWHILE UNTILL WE ALL CAN FEEL SAFE. SO DO NOT LEAVE GUILD.
This is Big Help for Us...then dont trust also another website they said free IMPs and that is not true,dont share ur Account..they are going to hacked u or something...

±Loue±




Posts

: 54


Join date

: 2010-05-12


Age

: 26


Location

: Philippines/Davao City





Similar topics
---
Permissions in this forum:
You
cannot
reply to topics in this forum